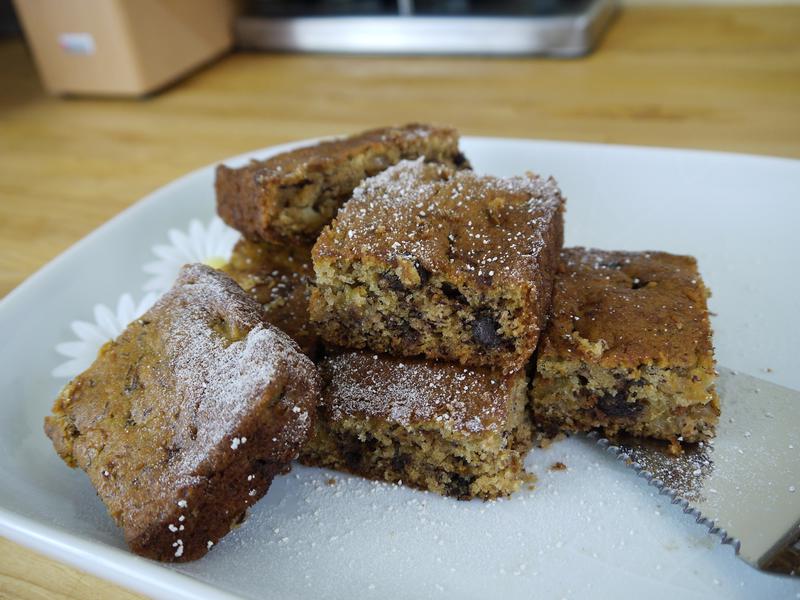 When Joel's parents, who Saffron has issues with, arrive for an unexpected visit, in The Flavours of Love, she serves them these in muffin form with tea. I like them as tray bakes.
What you'll need
130g butter, softened or olive oil 100g soft brown sugar 3 bananas 1 tsp vanilla extract 2 eggs, lightly beaten 250g plain flour 1tsp baking powder 1tsp bicarbonate of soda 60g dark chocolate chunks or chips (or chocolate broken into chunks) 30g white chocolate chunks or chips (or cooking chocolate broken into chunks) 30g milk chocolate chunks or chips (or cooking chocolate broken into chunks) 45ml milk
The amount
About 16 small rectangles and six large muffins.
The how to
1. Preheat your oven to 160 degree C (fan) and butter or line two 22 x 24 cm cake tins or one 22 x 24cm cake tins and put paper cases into a six-hole large muffin tin. (Don't forget to butter/line the sides of the tray)*
2. In a large bowl, cream together the butter and sugar. Mash the bananas (I only do this now because the bananas go brown) and add them with the vanilla and eggs to the bowl.
3. Sieve the flour, baking powder and bicarbonate of soda together into the bowl. Once well mixed, add the chocolate chunks and milk, then stir.
4. Spoon the mixture out into the trays or tray and muffin tin to about three-quarters full.
5. Bake on the middle shelves of your oven for about 20 minutes (checking constantly to see if they done – depending on your oven it may take longer to cook.
6. Remove when a skewer or knife inserted into the middle comes out clean.
7. Allow to cool slightly and slice up into rectangles while in the tin with a palette knife or normal dinner knife. Remove from the tin and serve.
8. You can store for up to two days in an airtight container.